Information from the Commonwealth War Graves Website
In Memory of
Eric Leonard Hoskins DSM
Leading Seaman
C/SSX 15125
H.M.S. Martin, Royal Navy
who died on
Tuesday, 10th November 1942. Age 27.
Additional Information:
Son of Percy and Margaret Annie Hoskins, of Elham, Kent.
Commemorative Information
Memorial:
CHATHAM MEMORIAL, Kent, United Kingdom
Grave Reference/
Panel Number:
52, 2.
Location:
The Memorial overlooks the town of Chatham and is approached by a steep path from the
Town Hall Gardens.
Information about HMS Martin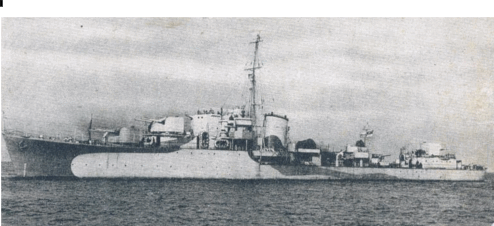 Navy:
The Royal Navy
Type:
Destroyer
Class:
M
Pennant:
G 44
Built by:
Vickers Armstrong (Newcastle-on-Tyne, U.K.) : Parsons
Ordered:
Laid down:
23 Oct, 1939
Launched:
12 Dec, 1940
Commissioned:
4 Apr, 1942
Lost:
10 Nov, 1942
History:
HMS Martin (Cdr. C.R.P. Thomson, DSO, RN) was torpedoed and sunk by the German submarine U-431 northeast of Algiers, Algeria in position 37.53N, 03.57E. 161 Officers and men went down with the ship. There 63 survivors.

Hit by U-boat
Sunk on 10 Nov, 1942 by U-431 (Dommes).