Information from the Commonwealth War Graves Website
In Memory of
Eric Leonard Hoskins DSM
Leading Seaman
C/SSX 15125
H.M.S. Martin, Royal Navy
who died on
Tuesday, 10th November 1942. Age 27.
Additional Information:
Son of Percy and Margaret Annie Hoskins, of Elham, Kent.
Eric was awarded the DSM for conspicuous bravery under fire whilst operating one of the guns on HMS Warspite, they were fighting against the Italians during the Battle of Matapan in March 1941.
(Info. from family member Christine Rawlinson in 2010)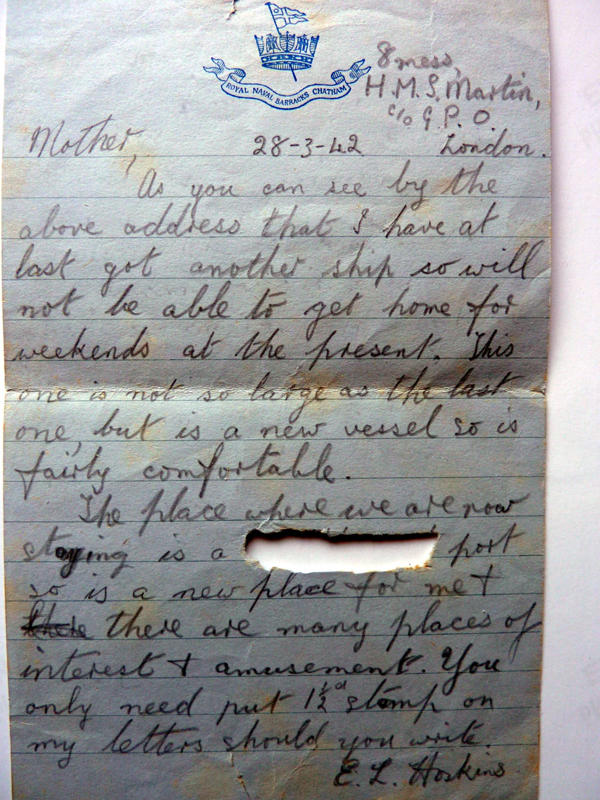 The Hoskins family lived in a cottage at Standard Hill, Elham.
Commemorative Information
Memorial:
CHATHAM MEMORIAL, Kent, United Kingdom
Grave Reference/
Panel Number:
52, 2.
Location:
The Memorial overlooks the town of Chatham and is approached by a steep path from the
Town Hall Gardens.
Information about HMS Martin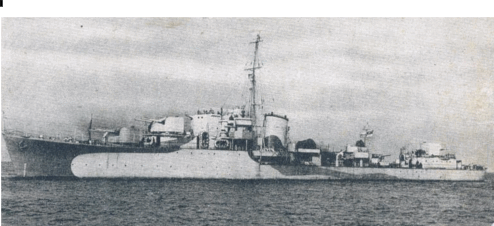 Navy:
The Royal Navy
Type:
Destroyer
Class:
M
Pennant:
G 44
Built by:
Vickers Armstrong (Newcastle-on-Tyne, U.K.) : Parsons
Ordered:
Laid down:
23 Oct, 1939
Launched:
12 Dec, 1940
Commissioned:
4 Apr, 1942
Lost:
10 Nov, 1942
History:
HMS Martin (Cdr. C.R.P. Thomson, DSO, RN) was torpedoed and sunk by the German submarine U-431 northeast of Algiers, Algeria in position 37.53N, 03.57E. 161 Officers and men went down with the ship. There 63 survivors.

Hit by U-boat
Sunk on 10 Nov, 1942 by U-431 (Dommes).