Elham War Memorial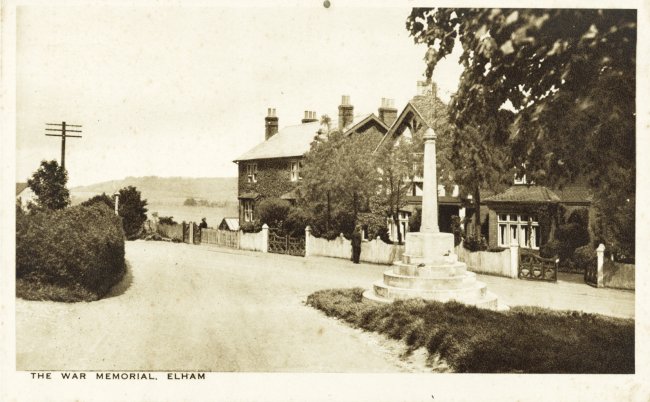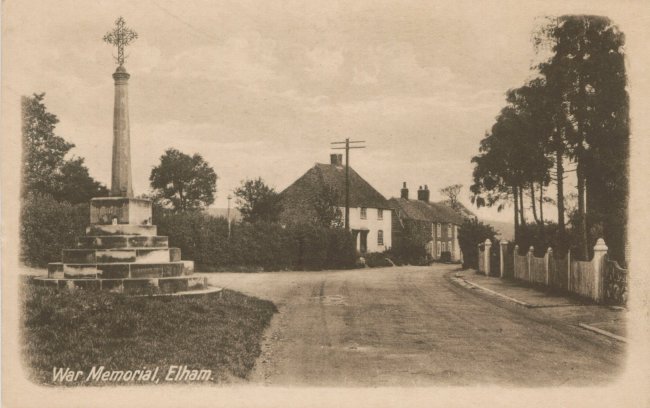 Early photographs of the memorial
Inscriptions from the memorial :-
(North Side)
1914 -1918 In Memoriam R.I.P.
Mentioned in Church Memorials but not on the Elham War Memorial
G.T.Friend, J.Godfrey, W.Hobbs, W.F.Johnson, L.A.Lyons (see below), H.W.Nash, W.N.Nethersole, C.Packer, W.H.Webster, R.Youlden, all died during the 1914-18 War.

Name: LYONS, LEWIS ALBERT
Rank: Private
Reg.: The Buffs (East Kent Regiment) 8th Bn.
Age: 17
Date of Death: 19/03/1916
Serv. No.: SR/10735
Additional Info.: Son of John Lyons, of 37, St. Martin's Rd., Canterbury. Lived in Lime Villas, Elham.
Cemetery/Grave: SANCTUARY WOOD CEMETERY II. K. 28.
Church yard Military Graves :-
(Cinque Ports Grave Stone)
3954 Private Percy Hadaway, 5th.BN.Royal Sussex Regt. 22nd.January 1917 aged 26.
(Wooden Memorial)
In Loving Memory of Captain C.L.M.Scott, North Stafford Regt.Att. Royal Flying Corps.Lead Kindly light.
( The dates are difficult to read, but it appears he died in 1917)
(Angel Memorial Stone)
Died In Action - Walter Johnson "B" Coy. 2nd Bn., Leicestershire Regiment
7th November 1914. Buried with his son Walter , who died 17th February 1915 aged 16 months.
Cemetery Military Graves :-
W.E.Murphy D/4852 Lance Corporal 6th Dragoon Guards, 21st April 1919

E.V.Carpenter 18716 Cook Q.M.Army Aux Corps 23rd February 1919 aged 21 Died of Spanish Flu

JamesW.Peary 929657 Gunner Royal Artillery 2nd January 1943 aged 23. James was a minor from Cudworth in Yorkshire.
He joined up in 1939 and trained with the 21st Medium & Heavy Training Regiment at Larkhill. He was posted to the 3rd Super Heavy Weight Battery in 1940.
This resulted in him being sent to Elham attached to the railway mounted guns. Here he met and married Peggy Ellender. Sadly he became unwell in the November of 1942 and was "Taken Off Strength" on the 28/11/1942 and registered as "Unfit For Service". He sadly died of TB on the 2/1/1943, his Death Certificate records him as living at Bereforstal Farm, Elham. Buried in Elham Cemetery 16/1/1943.

H.T.Baldock 636881 Corporal RAF 23rd December 1947 aged 28

Not Mentioned on Memorials in Elham:
Robert Hugh Ellender, brother of the Ellenders recorded on the war memorial. He is buried in Cheriton Rd, Cemetery. He was born in Lyminge and brought up by an aunt in Folkestone as his mother died giving birth to him. He served in the Buffs. In total 4 sons of John Ellender (1854-1923) were killed during The Great War. John had worked as a waggoner at Standard Hill farm and Wick farm, however he became unable to work due to arthritis and died in Lyminge Workhouse Hospital.
R.H. Ellender : Private
Service No: T/4055
Date of Death: 16/03/1916
Regiment/Service:The Buffs (East Kent Regiment) 4th Bn.
Grave/Ref.: C. "U." 281. Folkestone Old Cemetery
Link to the Commonwealth War Graves Commission website. This is an excellent site, with a searchable index of war graves, with some civilian casualty information.
Link to the http://www.fadedgenes.co.uk/ElhamMemorial.html This is a very useful site with further family history and Elham Valley village war memorial information.
http://www.fadedgenes.co.uk/BarhamMemorial.html
http://www.fadedgenes.co.uk/BekesbourneMemorial.html
http://www.fadedgenes.co.uk/IckhamMemorial.html
http://www.fadedgenes.co.uk/KingstonMemorial.html
http://www.fadedgenes.co.uk/LittlebourneMemorial.html
http://www.fadedgenes.co.uk/Newington.html
The 2003 Remembrance Day Service at Elham War Memorial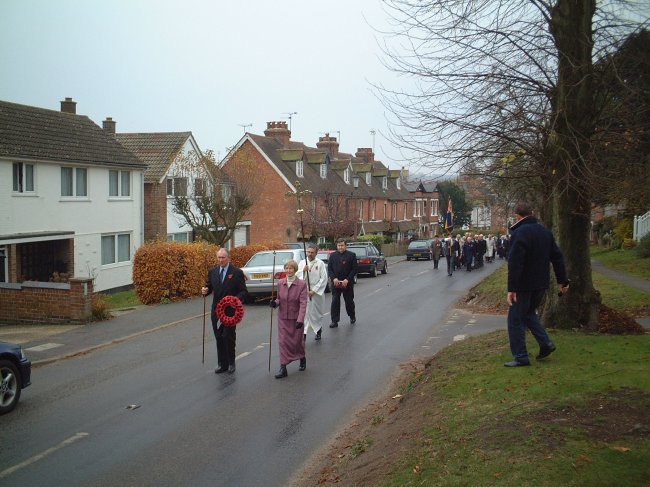 The procession arrives from the Square and St. Mary's Church. The traffic is stopped through the village for the duration of the service.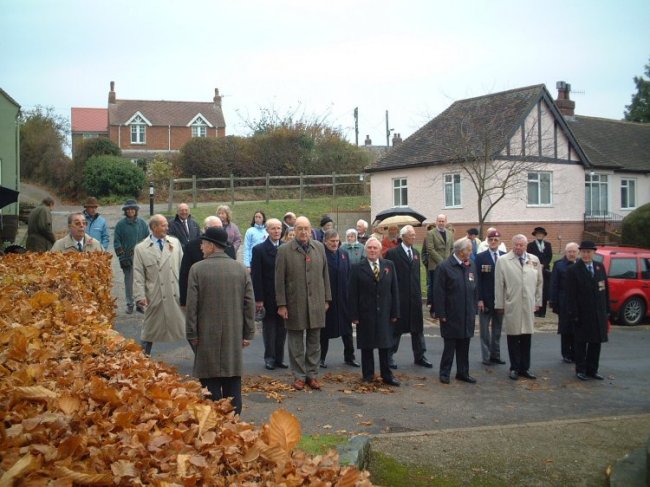 British Legion members under the command of Colonel Ramsey form up and come to attention.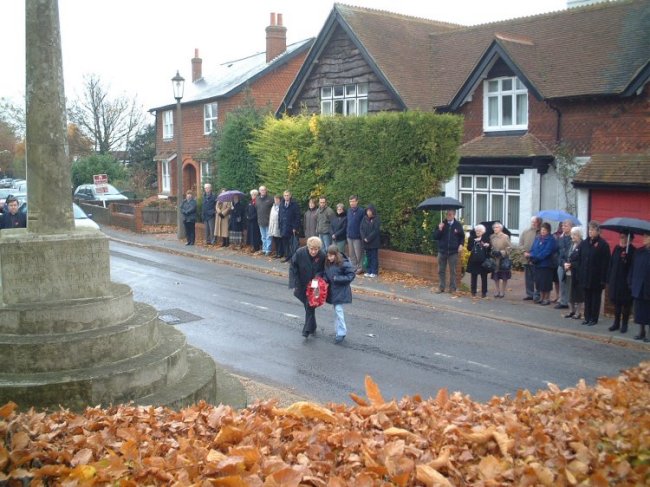 A wreath is laid every year by the family of Fredrick Leonard Cork,
normally this duty is performed by his daughter Mrs Williams.
However in 2003 the honour fell to Fred's Granddaughter and Great Granddaughter.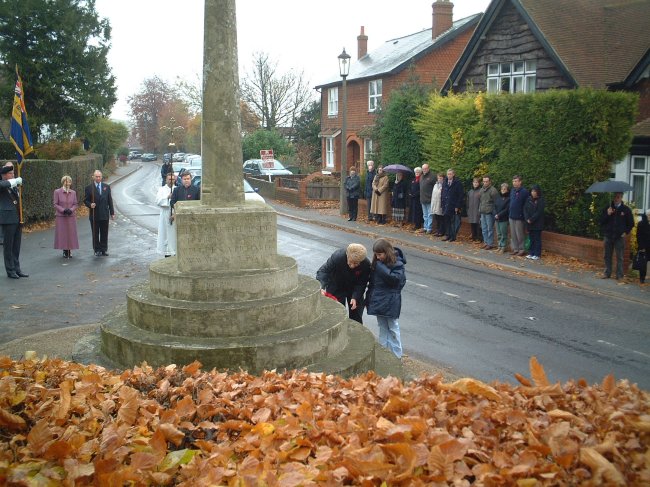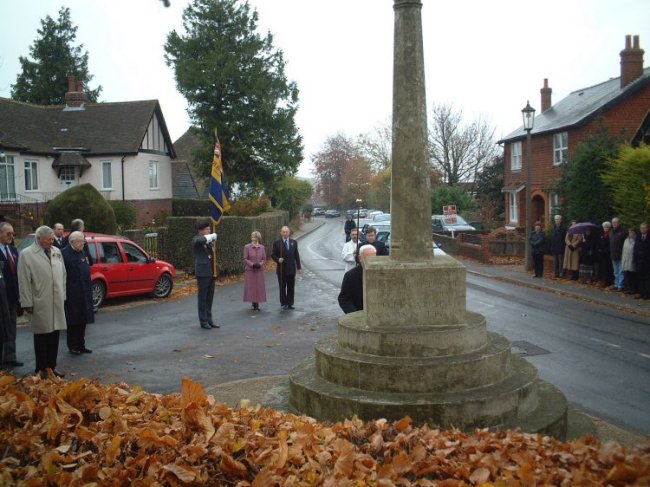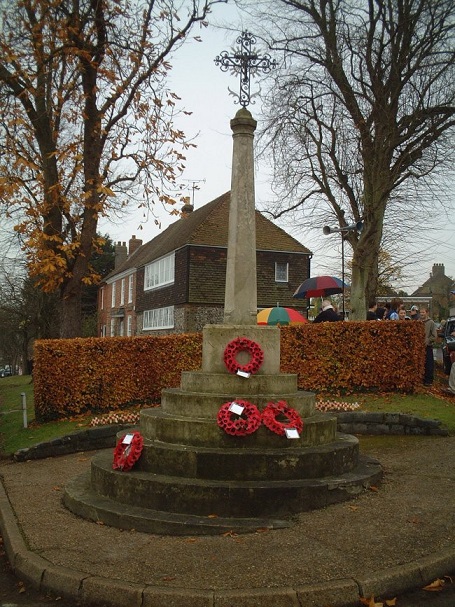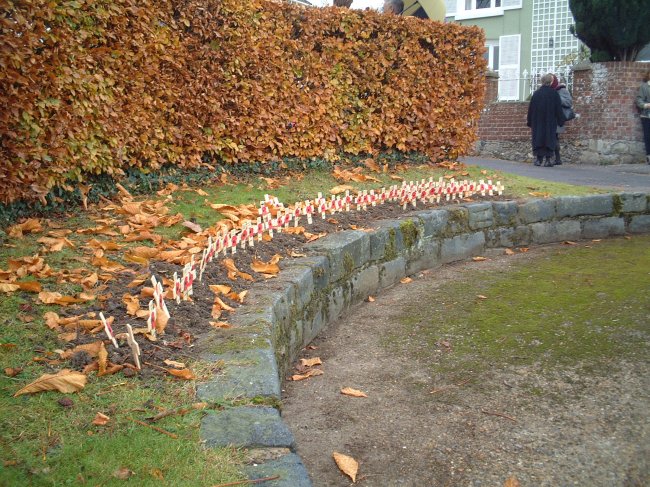 The children of Elham Primary School lay small crosses in a separate remembrance service held especially for the children.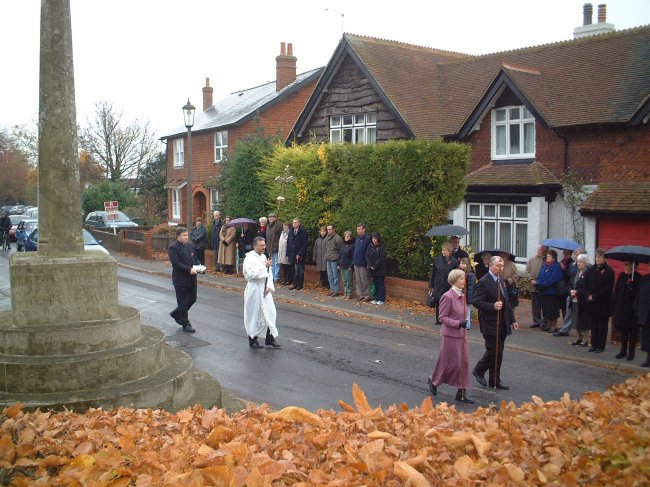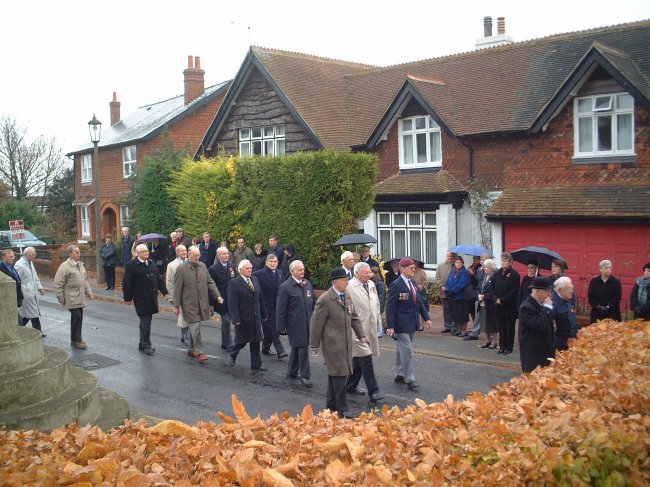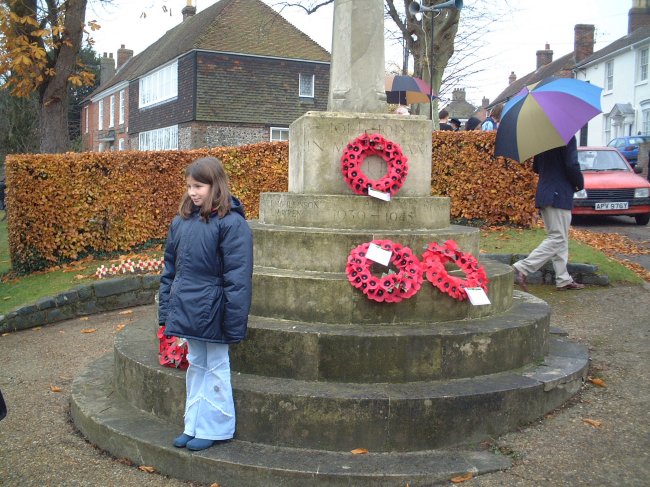 A proud day for Fred's Great Granddaughter.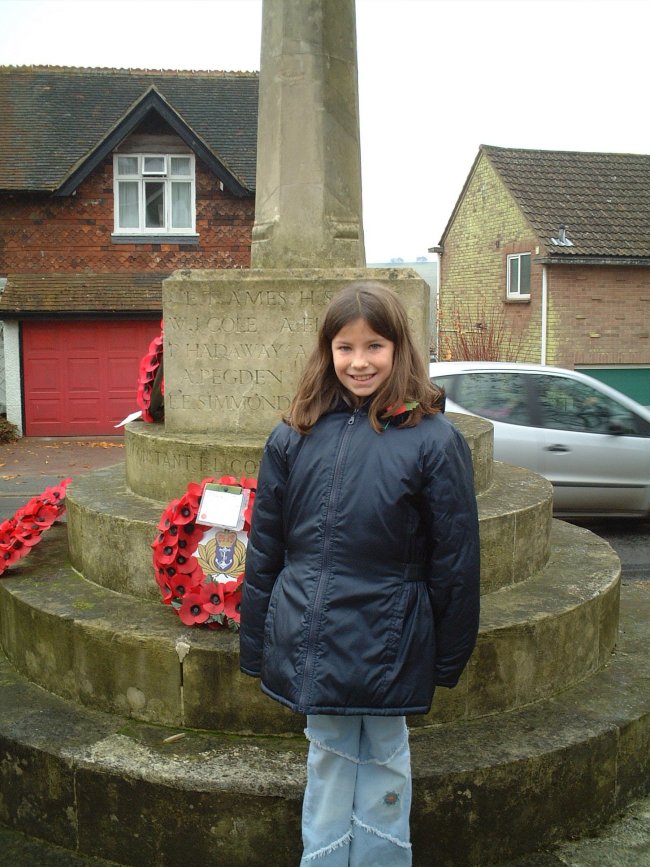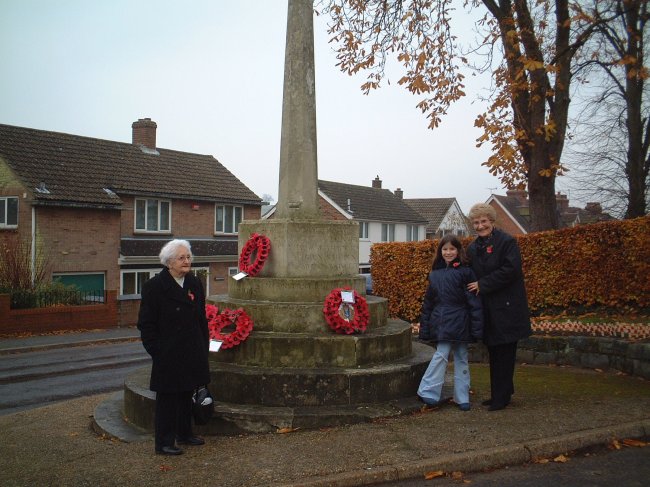 Three generations of Fredrick Leonard Cork's descendants.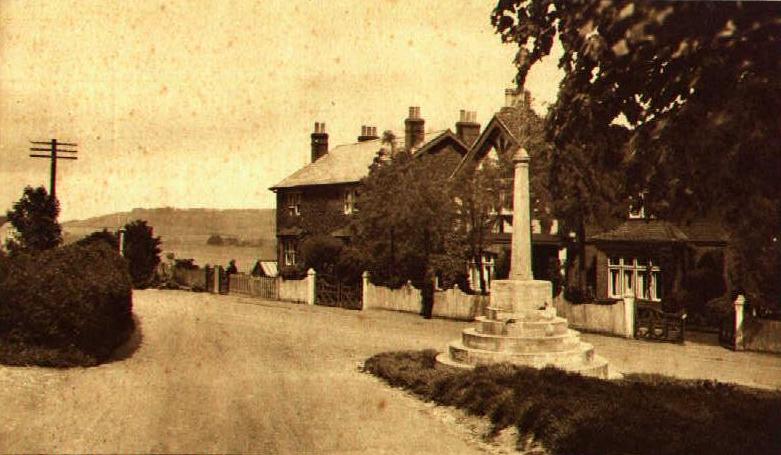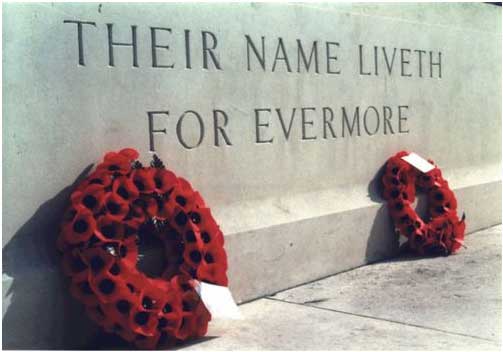 Last updated 24/05/2014